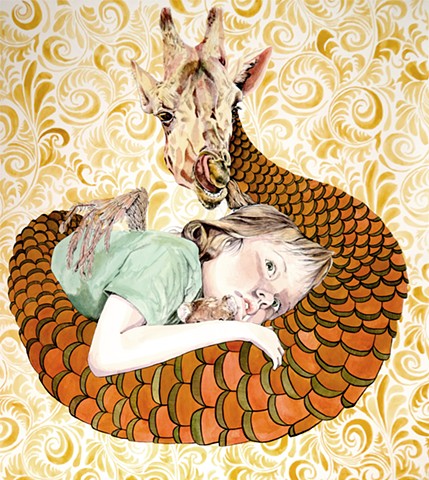 I am a tinkerer, a maker, and an adventurer, with my studio practice reflecting these qualities both in media and in aesthetics. My use of media ranges from painting to illustration to reduction printmaking to sculpture and fiber arts. Though much of the work is drawing or printmaking based, I have a passion for being outside and for painting, so my summers often take me, sketchbook and Guerrilla box in hand, to fields, city streets, or old junk yards. The light and color that I discover in these situations informs and sustains the more illustrative studio work I pursue throughout the months that keep me confined to my windowless classroom.
Themes of vulnerability, self awareness, and human instinct have always interested me, and in some way or another have surfaced in my work since college, reflected through an unexpected cast of human and anthropomorphic characters that appear and reappear throughout my drawings and prints. Similarities and differences between human and animal behaviors are explored through unexpected juxtapositions, with specific animals reappearing throughout the body of the work, prompting a dialogue between the pieces themselves.
More recently I have been investigating the connections formed between people and spaces. I am curious about issues and situations that bring people together or cause them to them to move from place to place, and how as a result, individuals and groups define the qualities of home and culture. I am heavily drawn to the visual imagery related to decorative arts, such as vivid color combinations and elaborate patterns. As a result I have begun to explore the curious question of why we as a society are dismissive of decorative arts, which historically have been done by women or minorities. I am excited to see what happens with my work as I move deeper into the exploration of these ideas.
My willingness to push myself and my practice has served me well as an art educator. The openness to experimentation and risk taking has inspired my students to branch out and to explore different ways of working and challenge their own artistic practices. It has also made me a more effective resource in terms of material knowledge and technical skill with materials.
In addition to my personal body of work, I have a bit of fun illustrating cards and stories when I can. You will find some of this work in the illustration section of this site.
I hope that you enjoy your visit and don't forget to stop by JumpJack Studio on Etsy and see what's new in my shop!
http://www.etsy.com/shop/jumpjackstudio or stop by the new site at jumpjackstudio.com